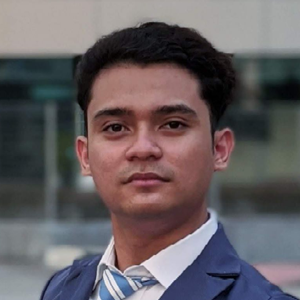 Researcher
Robotics & Autonomous Systems,
Royal Military Academy
Address
Avenue De La Renaissance 30, 1000 Brussels, Belgium
Contact Information
Call: –
Email: Danial.Hawari@mil.be
Danial Hawari is a robotic network researcher at the Robotics & Autonomous Systems unit of the department of Mechanics of the Belgian Royal Military Academy. His area of expertise lies in cloud and network infrastructure including Internet of Things, full-stack web application, and cloud applications. On top of that, his study focuses on cyber-physical systems, automation, robotics, embedded system, mechatronics and micro-mechatronics.
 Danial completed his 6-month internship at Intel Corporation Malaysia where he developed automation scripts to speed up the resistor-transistor-logic design process and analyzed them for Platform Controller Hub Group in Comet Lake & Tiger Lake projects to create a better testboard. After receiving his Bachelor's degree, he worked as a research assistant at Gas Engine Laboratory University of Applied Sciences Karlsruhe where he supervised international projects "MYiTOPS" and other student projects, prepared teaching materials and taught "Communication Protocol & Cloud System" class. Danial successfully defended his bachelor thesis on "Implementation of IoT Protocol into The Cyber-Physical System" for GEnLab energy system and his master thesis on "Development of Cyber-Physical System for Transmisson of System Data and The Provision of System Services " for Lampuga electric jetboard system.
 At RMA, Danial leads the architectural network design of multiple heterogenous systems so that they can be interoperable, standardized and scalable. He is also responsible in assisting the RAS team across multiple projects that deal with multi-agent robotic systems and sensor networks.